Book 1 Kickstarter Update + Book 2 Development
FEBRUARY 6th, 2015
We're so close to going to print with book one! We should have more news next week on that which we'll promptly post in the updates section on Kickstarter HERE.
Once we're on the other side of all of this printing business, we'll figure out how to tackle book two. It's quite an undertaking -- creatively and monetarily -- but we want to find a way forward because we're eager to keep going on the story. Until then, if you know anyone who might enjoy book one, please share a link!
Alternative Press Expo (APE) 2014
SAN FRANCICSO, OCTOBER 4th — 5th
I decided to get a table at APE again this year. (table #906) If you happen to be in the Bay Area and want to check out an entire warehouse of cool comics, come on by. This year it's being held at Fort Mason - gorgeous views of the Golden Gate Bridge and everything. Can't beat it.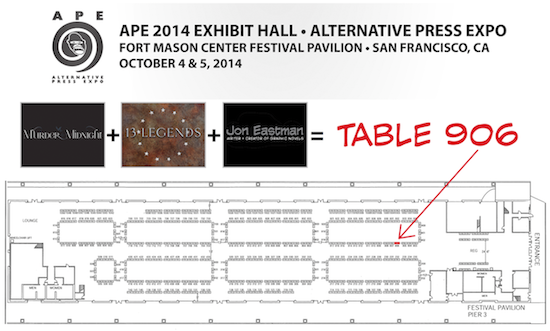 K I C K S T A R T E R S U C C E S S !
SEPTEMBER 22nd, 2014
THANK YOU SO MUCH all of you amazing readers who backed the Murder & Midnight Kickstarter to create a premium hardcover edition! When the dust settled, we'd not only hit our goal, but had reached stretch goals to improve the book as well -- it's really going to be a gorgeous way to enjoy the story. We even decided to add a bonus 8 page appendix full of early concept art to make it even nicer.

We've also set up a store where anyone who was late to the party can still pre-order a copy HERE. Tell your friends!
C O R V I D S A R E A M A Z I N G C R E A T U R E S
APRIL 22nd, 2014
Did you know that crows and ravens do some pretty amazing things? These brilliant little guys have language, play games, give presents, use tools, enjoy drinking beer and coffee, and recognize faces... all so very human. And while they gather in large numbers to grieve their dead (amazing!)... they've been known to commit the occasional murder as well. (too bad their humanistic tendencies couldn't stay in positive realm... makes you think...)

If research into this kind of behavior by these big-brained birds sounds interesting to you, check out: Gifts of the Crow: How Perception, Emotion, and Thought Allow Smart Birds to Behave Like Humans by John M. Marzluff and Tony Angell.
B A C K T O O N C E A W E E K U P D A T E S
MARCH 25th, 2014
Until further notice, we're going back to a once-a-week posting schedule. The story will update every Friday, effective immediately. We'll do our best to get back to twice a week.
A N E X T R A P A G E E V E R Y S I N G L E W E E K !
OCTOBER 22nd, 2013
After more than 6 months of once-a-week updates, David and I have decided it's time to kick this thing into a higher gear. The most common complaint we've heard (by far) has been from readers wanting more pages, faster. Well, we've heard you, so starting now, we're posting new content every Tuesday and Friday.
Enjoy the new pace!
Alternative Press Expo (APE) 2013
SAN FRANCICSO, OCTOBER 12th — 13th
I have a table at this year's Alternative Press Expo, so if you're in the Bay Area over the weekend of October 12th & 13th, please stop by and say hello! (TABLE #534) Attendees will have a chance to win free, hardcover, numbered, limited Kickstarter editions of the first volume of one of my other graphic novel series -- 13 Legends! ( 13legends.com ) These copies are from a tiny stash leftover from a 2012 Kickstarter campaign, and are not available for sale. The only way to get this particular edition is to win it!